Dry Chemical Extinguishers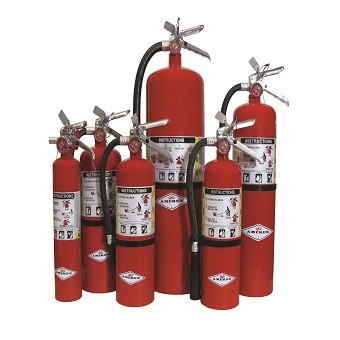 Dry chemical extinguishers use an inert dry powder to smother the fire they're used on. Dry chemical extinguishers typically put out Class A, B, and C fires; however, some specialty dry chemical extinguishers can be used on Class D fires.
Dry chemical extinguishers are the most common extinguisher, and arguably the best for general-purpose use. They're economically priced as well. General-purpose ABC extinguishers are used in many places, including schools, churches, factories, paper mills, grocery stores, malls, banks, offices, and many more.
Standard dry chemical extinguishers come in multiple sizes: 2.5 lbs, 5 lbs, 10 lbs, and 20 lbs. Other sizes can be ordered for special cases, but the average user isn't going to need above 20 lbs.
Heavier units can be purchased up to 350 lbs. Extinguishers that are 100 lbs or higher come on two large metal wheels, for ease of transport.
If you aren't sure which extinguishers would be needed in your location, don't worry! Our trained technicians excel at choosing the best extinguisher(s) to suit each customer they service. Call our office at [Please enable javascript.] for more information, or to schedule a technician visit.