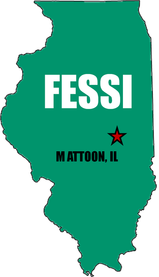 FESSI Inc., "Where we Put Service First!", has proudly served the Central Illinois area for 58 years. We provide our customers the convenience and peace of mind that comes with our ability to take care of all their fire safety and service needs.

No job is too large or too small for FESSI. Whether you are starting a new business, just need an inspection, or need expert advice on fire safety equipment, we want to be the fire service company you call first! Our knowledgeable and highly skilled service team will assess your needs and discuss your options with you.

We are a modern company with old-fashioned values. Our continuing education keeps our sales force and technicians abreast of new fire and safety methods, techniques and equipment. Please do not hesitate to contact us personally if you have any questions or for any concerns you may have. We realize that there is no substitute for repeat and referral business. That is why at FESSI, customer satisfaction is still our number-one business asset.
Our Team

Amy Lewis, Owner and President
Amy joined the FESSI team in January of 2019, and quickly showed that she brought some valuable experience and insight to us. Part of a family of Fire Safety workers, she knows the ins-and-outs of the industry well. We hope that she will lead the company to another great 30 years!
---
Andy Cisna, Office Manager
6 years with FESSI
Andy is a U.S. Army Veteran, and we thank him for his years of service to our country. He also has a great deal of experience in business. He may keep the office running as smoothly as a well-oiled machine, but his primary focus is always to take care of customers' requests in a quick, cheap, and friendly manner. Ask for Andy!
---
Ruth Vargas, Office Support
First year with FESSI
Ruth is our newest hire at FESSI. She'll be handling a lot of the office work. She's already shown herself to be a diligent worker, and we're excited to see what her future at FESSI holds!
---
Tom Byrnes, Alarm Manager
40 Years Industry Experience
Tom came to FESSI in 2013 with 34 years of industry experience. He's been with us now for 6 years, and has been indispensable in the Alarm sector. His knowledge of burglar and fire alarms is nearly encyclopedic, and he doesn't call a job finished until the customer is satisfied. Give him a call to get an alarm quote today!
---
Kris Cisna, Fire Safety Technician
1 Year Industry Experience
Kris joined us last year, taking over our Effingham service area. He learns quickly, and prides himself on his attention to detail. He does his work efficiently, saving our customers time and money wherever he can.
---
Ron Kastl, Fire Safety Technician
26 Years Industry Experience
Ron serves the communities of Taylorville, Pana, Shelbyville, Sullivan and areas in between. He is customer oriented with a proficient knowledge base for portable extinguishers and fire suppression systems.
---
Brian Smith, Fire Safety Technician
22 Years Industry Experience
In the Mattoon, Tuscola, and surrounding areas, Brian makes friends with many people. He makes sure his customers are able to get the most economical deal while taking care of the OSHA safety requirements.
---
Brian Banovz, Fire Safety Technician
18 Years Industry Experience
Brian is a Class A and Class B technician, servicing the areas of Flora, Salem, Fairfield, and Xenia. His service with a smile, combined with his knowledge of the industry and his work ethic, make him an exceptional technician for any of your fire safety needs.
---
Michael Kastl, Shop Manager
2 Years Industry Experience
Michael takes care of hydrotesting and our walk-in customers, as well as handling any odds-and-ends in the shop. Although Michael hasn't been in the industry for long, he's already proven himself capable of servicing our customers' extinguishers with care.
---
Mike Linder, Fire Safety Technician
11 Years Industry Experience
Mike is currently taking care of the eastern and southeastern sections of our service area. He was born and raised in this area, so he knows about the geography, people and business. He visits towns and cities in and around Charleston, Casey, Olney, Greenup and Terra Haute.
---
Brad Herendeen, Alarm Technician
3 Years Industry Experience
Brad worked primarily as a Fire Safety Technician for 2 years, but he also did alarm work in that time. Now, he has transitioned into being a full-time Alarm Technician. Brad has extensive training and experience in both Fire Suppression and Alarm work.
---
Billy Tipsword, Fire Safety Technician
First year with FESSI
Billy is new to the Fire Safety industry, but he's learned very quickly. He joined us earlier this year, and has been training hard ever since. He helps out wherever he's needed, and his work is always neat and efficient. We're glad to have him aboard!